Customized merchandise does wonders to improve your brand visibility.
You can either display and distribute the custom made products at various events to get noticed, or make an effort to create a fanbase on social media and then sell those products with your brand logo (and you might even generate profits).
Whichever option you choose, the point here is to get the products printed first.
Get Started For Free With Printful
Maintaining a warehouse to store your product, installing multiple printing machines (for printing different kind of products) and then dispatching them to your customers may not be a feasible option, especially for startups.
In such cases, outsourcing the job to a professional (like Printful) makes more sense, both in terms of ease and budgeting.
Check Out: Best Print On Demand Wordpress Plugins
What is Printful ?
Printful provides Print on Demand and dropshipping services for ecommerce stores. They fulfill orders for customized prints on a large range of merchandise like T-shirts, mugs, bags etc.
You can use it to create and sell your own brand merchandise to promote your business or simply get random products printed as per your liking – such as personalised clothing or a unique wall art.
You just need to select a product and upload the design you want, enter your address details and pay. The items are usually shipped out in 3-5 business days.
Having said that, Printful is mostly used as a dropshipper. So if you are running an online shop (where you also need to print and sell products), you can integrate it with Printful and get all your print requests transferred to them.
Printful in turn, fulfills the order and delivers the final product directly to your customers with your brand name on the invoice.
We earn a commission if you click this link and make a purchase at no additional cost to you.
Printful Features and Services
Let's take a quick look at some of its features and services –
Products
Printful has a variety of products in different sizes and styles that can be used for custom printing.
Some of the currently used products include – T-shirts and shirts, sweaters and tank tops, skirts and dresses, hats, leggings and socks, towels, pillows, phone cases, mugs, bags and totes, frames, posters and canvas and much more.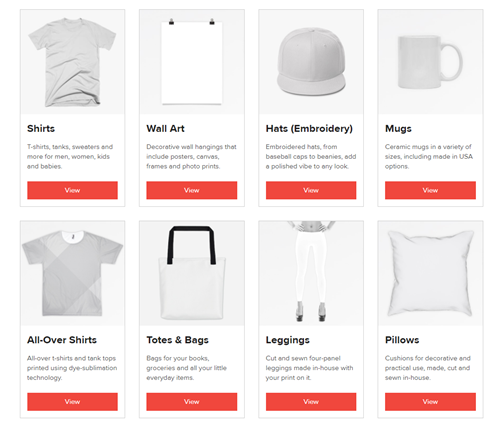 Printful keeps working towards adding newer products every now and then. You can scan their upcoming products page to know more about what could work for your business in future.
And if that's not all, you can even place new feature requests that you would like them to include in their product printing.
Get Started For Free With Printful
Mockup Generator
The Mockup Generator tool allows you to create mockup images of your final product. Once you select the product and upload a design, you can digitally adjust the image size and its position on the desired product – to get a feel of how the final product will appear.
Explore: Best Print On Demand WooCommerce Plugins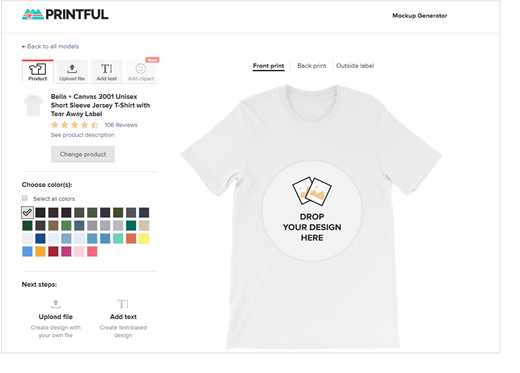 The tool also allows you to create well formatted print files, that matches with the printing guidelines. This way, you can upload the correct image and the pixel size – right at the beginning and leave no room for errors during the final printing process.
Also, the images created by the generator can be used to display the product on your store as well.
We earn a commission if you click this link and make a purchase at no additional cost to you.
Seamless Integrations
Printful easily integrates with almost all the widely used ecommerce platforms such as Shopify, WooCommerce, Etsy, Ecwid, Tictail etc.
The installation is fast and it provides multiple benefits for each one of them. The integration nullifies the process of sending each order request 'manually' to Printful, thereby reducing any chances of a mistake or missed orders.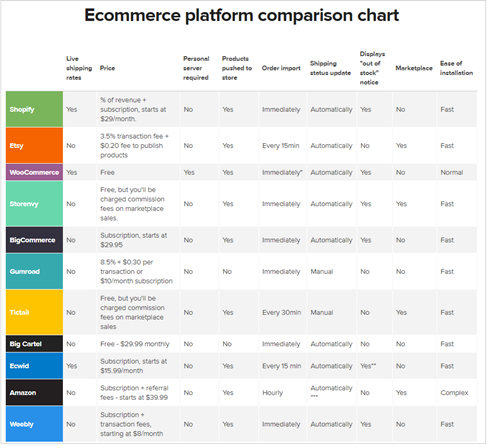 Also, the integration with third party apps like Shipstation allows it to connect with platforms that otherwise couldn't be integrated with Printful.
However, even if you don't use any of these platforms, you can still use their API to merge with whatever system you have.
Warehousing & Fulfillment
Printful allows you to store your inventory with them. It even takes care of your order fulfillments (that includes packaging and shipments) for both Printful and non-Printful products.
You can store all kind of assorted items like accessories, apparels, shoes, stationery, books, bags, magnets, or any other non-perishable item with dimensions upto 15″x15″x10″.
Ofcourse, the service comes with separate charges for storage, processing and fulfillment as well as additional service fees (for folding, packing, return, disposal etc).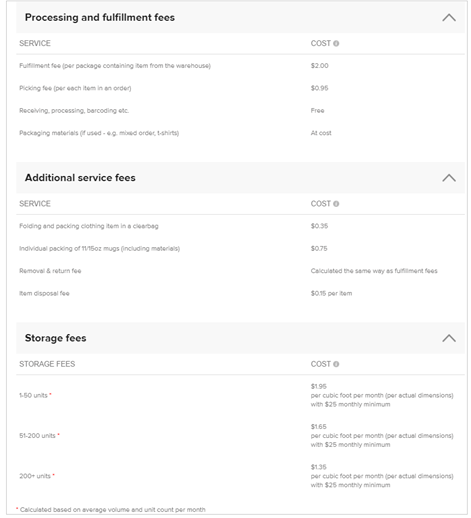 Printful warehouses are currently located in Charlotte, North Carolina (US) and Riga, Latvia (Europe), with more locations in the pipeline.
Designing, Photography and Personalized Branding
Running an ecommerce store isn't easy and you may want to use all the help possible. If you have trouble creating designs for your products or need high quality photographs to showcase your product catalogues, you may use Printful's design or photography services.
They can assist you in creating print ready files, color matching, redesigning, creating unique logos with artistic touch and more.
Also if you are using Printful as your dropshipper, you may still want your customers to know that the order is coming from your brand.
This means that you would need to place a brand logo on each package and the merchandise that is sent out.
Get Started For Free With Printful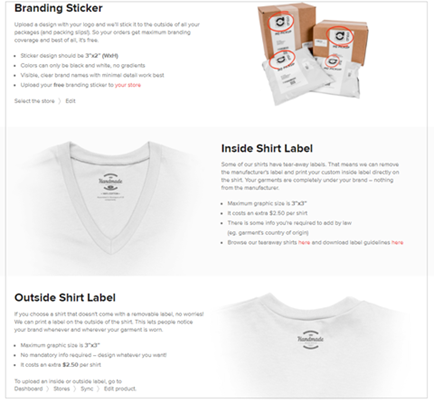 The branding services offered by Printful ensures that all your products and shipments carry your brand logo which you have designed, uploaded and shared with them.
You could opt for logo stickers, labels on the garments, branded pack-ins (flyers or business cards) or even the return addresses on the invoice can be altered to your store location to maintain your brand visibility and consistency.
We earn a commission if you click this link and make a purchase at no additional cost to you.
How Does Drop Shipping with Printful Work?
First of all, you need to have a Printful account that's integrated with your online store. This means that all your products and designs too are synchronized with Printful for easy processing.
Now when a customer places an order on your store (for instance, selects a design for a t-shirt), and pays the retail value that you had set up, the order is automatically sent to Printful for fulfillment.
At this point, you pay the pre-decided wholesale price (product and printing cost) to Printful and keep the rest of the amount as profit.
The job of Printful is to provide the product, stamp the desired print on the product and pack it up from their own warehouses. Once the order is ready, it straightaway ships it to your customer – without your involvement.
Since the whole process is automated, you don't have to worry about managing any inventory or printing machines or order fulfillments, leaving you with more time to focus on marketing.
Who is Printful For?
Printful is for all entrepreneurs who are looking for economical ways to start an ecommerce business.
Whether you are an artist who wants to promote your own designs and establish your own brand, or if you are planning to sell customized products but don't have the right infrastructure for storing inventory and printing machines, or if you simply want to outsource the product printing job to a third party but still want quality and precision – then Printful is the right choice for you.
Also, it doesn't matter if you are a beginner and has never done any kind of business before, the support and services offered by Printful is exceptional and will put you at ease instantly.
Moreover, its a low risk option since there are no minimum ordering or any recurring fees associated with Printful, which means you pay only when your customers place an order.
Printful Pricing
Printful has no registration fee or membership fee, setup fee or any other monthly/ annual fee. It charges only for the products that are ordered, and the cost covers both the material and printing.
In addition to that, Printful also has varied shipping charges that depend on the quantity and the weight of the product(s), shipping speed, and the destination city /country.
For instance, the wholesale price for Printful T-shirts typically ranges between $8- $40 (depending upon their style and size), while their flat shipping charges, say within US is $5 or within Canada is $8. And any additional T-shirt included within the same order, would incur additional shipping costs.
This means that while selling a T-shirt on your store, you would have to manipulate its retail price and the shipping fee such that – it includes both the 'wholesale' price plus the 'original shipping' cost (as quoted by Printful), and yet have enough to make a profit.
This however, can get tricky at times. Though the retail price decision is entirely up to you, the customers may not purchase from you if the quoted price is too steep or not competitive.
Is Printful Really Worth?
Yes, it is. The fact that it is completely free to use, has no setup or recurring fees and has no minimum orders as well – makes it quite appealing.
You can gauge the quality of their work by ordering samples and even get  20% off with free standard shipping.
Printful stocks up all kind popular products in its inventory and uses proven brands for their materials. It has all-over-printing and screen printing options along with 'direct to garment' way of printing – which means it offers high photo quality prints for all apparels.
Another thing that makes Printful worthwhile is its resources. They have several videos, tutorials and blogs that not only give you an insight into their own process, but also provides you with various tips and techniques to excel in the world of printing.
Apart from that, they even teach you the best ways to price your products for maximum profitability – a tip every business person wants to learn.
We earn a commission if you click this link and make a purchase at no additional cost to you.
Quick Assessment
Pros
Easy to set up with easy interface
Free; No extra or hidden charges
Inventory has a variety of products in different styles and sizes
High quality prints
Mock Generator simplifies the design work and image uploads
Seamless integration with several ecommerce platforms
Excellent customer support
Process transparency
Cons
High product prices leading to lower profit margins
Shipping costs are high
Refunds are hard to get
Conclusion
Printful is a wonderful option if you want to sell high quality and personalized items that can easily be drop shipped.
The products and services offered by Printful are thoughtfully curated, and are continuously growing as well to keep up with their customer's expectations.
Even though their product costs are on the higher end, the robust features and the excellent support system provided by them makes it super easy to streamline your business with minimal effort and time.
Get Started For Free With Printful
Tom loves to write on technology, e-commerce & internet marketing.
Tom has been a full-time internet marketer for two decades now, earning millions of dollars while living life on his own terms. Along the way, he's also coached thousands of other people to success.