A photography website can give you an opportunity to showcase your work and attract clients. It's like a virtual photo gallery available for anyone to see. 
You can also use a website to sell photos online, allow customers to book appointments, and establish credibility through your blog. 
Building a website isn't difficult, and it doesn't cost a lot of money. 
Today we will be looking at two platforms that let you build a website for free: Wix and Weebly. 
Both are good options for photographers – but which one is right for you? This article will compare these two site builders so that you can decide. 
Themes
Which site offers a better selection of themes designed for photographers?
Wix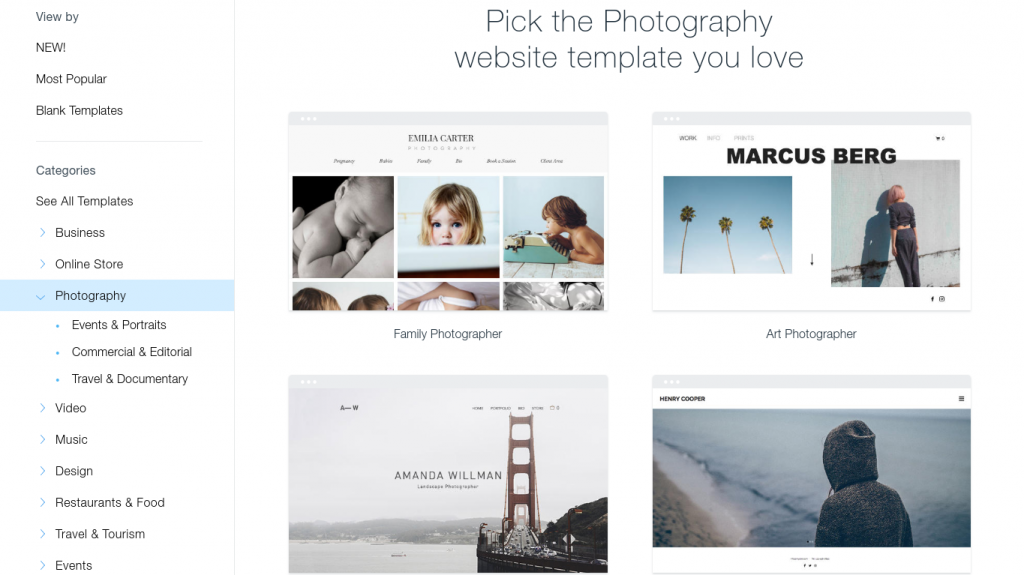 Wix has over 300 free website templates. Although any of them can be used for your site, there are 40 themes designed specifically for photographers. 
This includes themes for the following three categories:
Events and portraits

Commercial and editorial

Travel and documentary
Whether you want to showcase your professional work, build a website to display photos you took at an event, or build a gallery documenting your travels, Wix has beautiful options for you. 
Explore: Best Weebly Ecommerce Themes
Weebly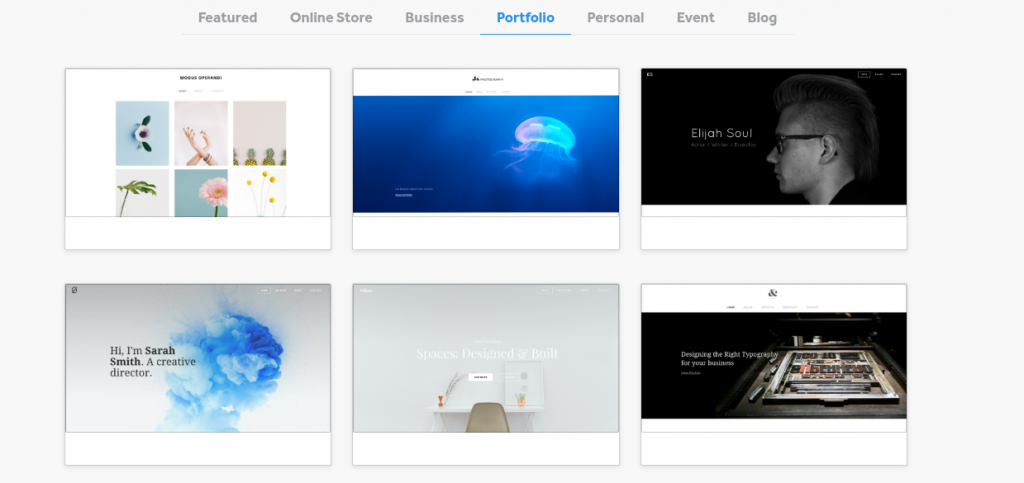 Weebly has a much smaller selection of themes to choose from. B
y going to the Portfolio section of their theme marketplace, however, you can find a number of good-looking themes that you can use for your gallery. 
In addition, you can always purchase premium Weebly themes from third-party developers, such as Webfire Themes. 
Site Builder & Customization Options
This section will explore the site builder and the customization options available on each platform. 
Wix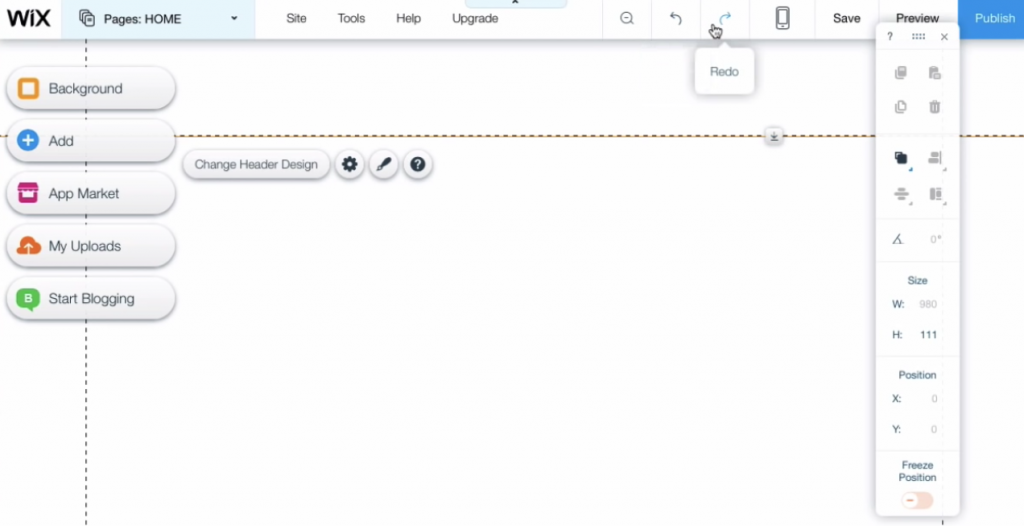 Both Wix and Weebly offer a drag-and-drop website builder. However, Wix has more customization options. 
For example, you can resize elements, finetune colors, adjust boundaries of elements and sidebars, rearrange elements, add external fonts, and more.
Weebly
Weebly's templates are also customizable. However, you will have less flexibility than you would have with Wix. 
On Weebly, you can do things such as:
Adding a text box

Adding a table

Resizing text boxes

Resizing the header menu

Renaming apps in your site menu

Adding a Paypal button
Not all themes will offer the same customization options. The parts of a theme that can be changed will depend on the settings set by the theme developer. 
For example, some themes may have elements that cannot be moved or changed. 
Weebly's site editor is kind of a strict drag-and-drop platform.
As you drag new elements to your page, the rest of the page will automatically adapt to it – you won't have much control over this. 
While Weebly offers you less flexibility, it can also be easier for beginners to use. It has less of a learning curve, which can be useful for those with limited time. 
In addition, Weebly has one big advantage over Wix in terms of customization – you can switch themes at any time without losing your saved layout and content.
With Wix, you cannot switch themes once you have customized your site – you will have to start all over again if you do.
Also Read: Weebly vs Wix For Teachers
Ecommerce
As a photographer, you might want to set up an online store where you can sell your photographs or art, in either a digital or physical form.
Wix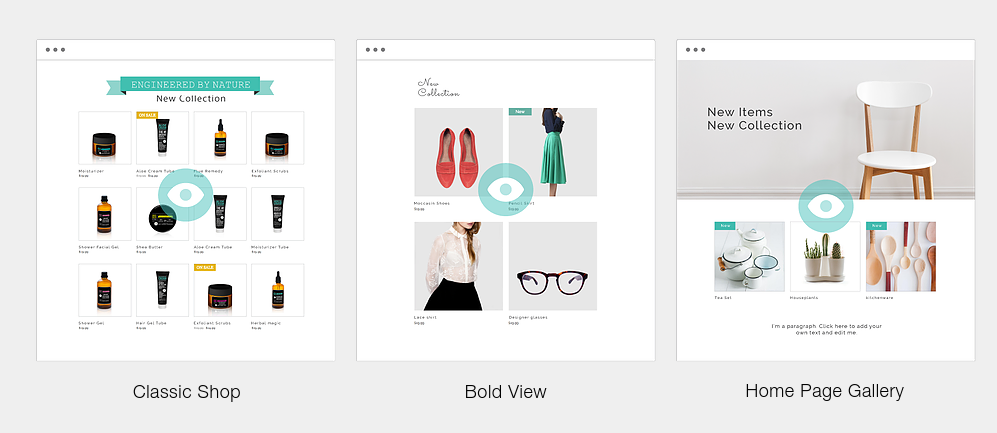 There are hundreds of Wix templates that can be used to create an online store.
You can choose from different styles of product galleries, such as Home Page Gallery, Classic Shop, and Bold View.
Both Wix and Weebly offer solid ecommerce features. You can sell digital and physical products and accept payments through a variety of methods. 
However, Wix has one advantage – the ability to accept offline payments, or cash on arrival. If you are selling your art to local customers, this might be something you will need. 
Weebly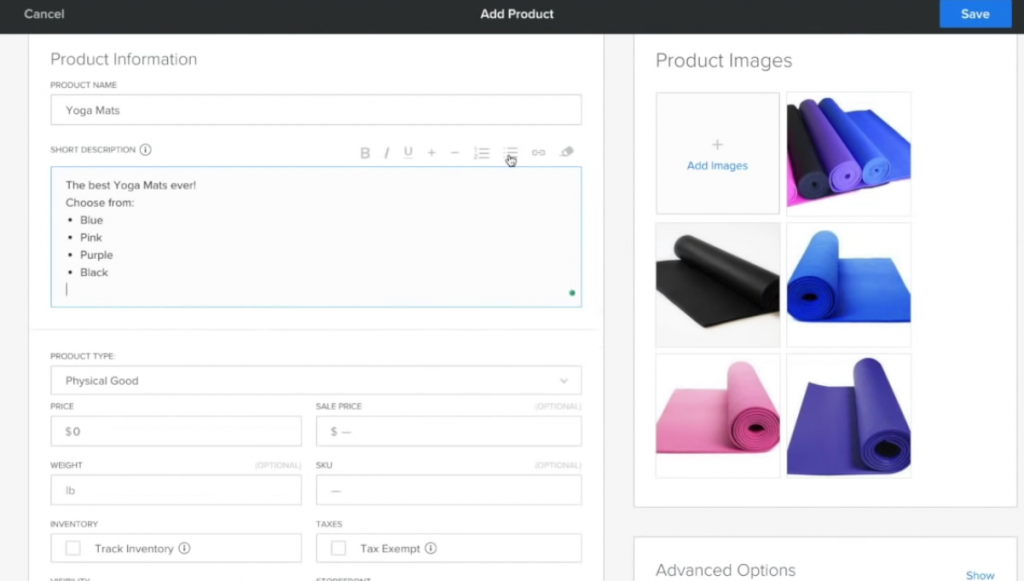 Weebly also has themes that can accommodate an online store.
If you are strictly interested in ecommerce, Weebly might be a better choice than Wix, although Wix has been catching up recently. Adding products is easy in Weebly – you can either add them manually or upload a list. 
Like Wix, you can optimize your product listings for SEO and add custom images. 
Weebly has some advantages over Wix for online sellers. For example, you can offer your customers the convenience of using an automatic sales tax calculator. 
Explore: Best Weebly Church Themes
Add-ons
Both Wix and Weebly have an app marketplace where you can add apps to your site.
These add-ons can help you market your products, improve your conversion rates, and drive more traffic to your site. 
Wix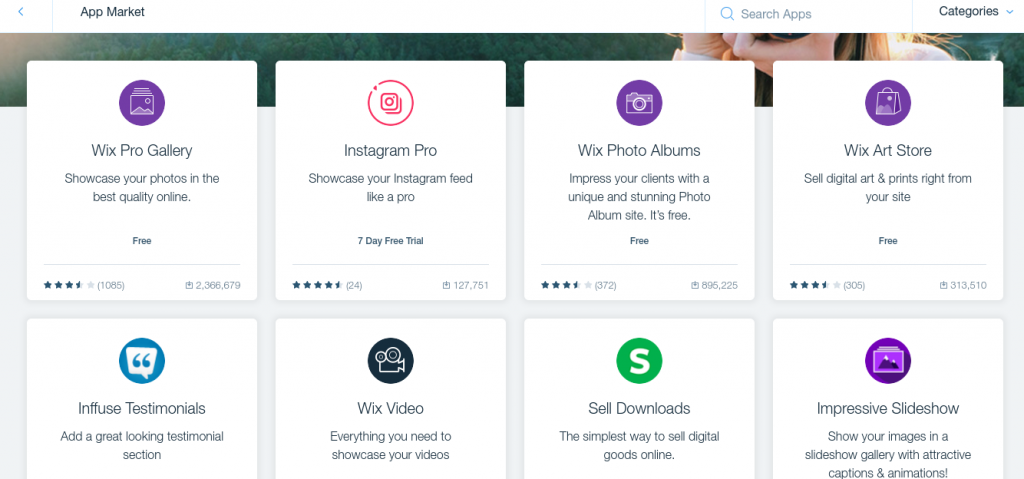 Wix's app store has fewer apps than Weebly's.
However, the app marketplace interface is better designed – as shown in the screenshot, you can easily see a short description of each app and details such as how many downloads it has and the average review rating. 
Here are the different categories of apps available on the Wix App Market:
Blog 

Bookings 

Events

Hotels and travel

Music

Online store

Photography

Analytics

Business tools

Chat 

Design tools

Forms

Marketing tools

Social

Video

Internal
For now, let's focus on two categories: Photography and Bookings. 
If you are a professional photographer who does photo shoots of weddings, trade shows, business meetings, and other events, you might want to allow clients to book you online. 
This will save you a lot of time. Instead of forcing clients to send you an email and going through all requests manually, you can automate your schedule by letting customers make bookings for available slots. 
Wix Bookings lets you accept online bookings 24/7.
You can accept payments immediately, send out automated email reminders to remind clients before their appointment arrives, sync your Wix calendar with your Google calendar, provide a Member Login area, store customer information, and more. 
Explore: Best Weebly Themes For Non-profits
Here are some other apps that are useful for photographers in particular:
Wix Pro Gallery:

Showcase your online photos

Instagram Pro:

If you already showcase your art on Instagram, embed your feed on your website with this app

Pinterest Feed:

Do the same with your Pinterest Pins

Wix Photo Albums:

Turn your website into a stunning photo album

Wix Art Store:

This app will enable you to sell art and photographs online

Wix Videos:

Showcase your professional videos

Sell Downloads:

If you want to sell digital downloads of your photos, you can use this app 

Impressive Slideshow:

Showcase your content in a slideshow

Video and Image Slider
Photo Editor:

Edit your photos online

Before-and-After:

Use a slider to showcase before-and-after photos

360 Images:

Display 360 degree images

Dropbox Gallery:

If you store your photos in Dropbox, you can display them on your site without downloading and uploading them again
There are many other apps that will be useful for photographers. Here are some of them:
Right-Click Protect:

Protect your copyrighted digital media and photos from being downloaded by users who want to share them online

Infuse Testimonials:

Add a testimonial section to your site

Testimonials Slider
Get Files to Dropbox:

Allow users to upload files to their Dropbox accounts

Image Zoom
DeviantArt Feed
In addition, there are many marketing tools you can use to get more leads, increase your social media reach, get more traffic, improve your conversion rates, and monitor your site performance. 
Weebly
Weebly has over 330 useful apps you can use. Available categories include:
Ecommerce
Communication
Marketing
Social
Site tools and features
You will find apps that will serve the same purposes as the Wix apps mentioned above. Here are some examples of Weebly apps that photographers can make use of:
Check Out: Best Weebly Themes For Artists & Teachers
Scheduler Pro

(professional appointment booking)

Book Now – booxi

(smart appointment booking solution)

Schedulista 
Appointedd
10to8

(another booking app)

Digital downloads
Media Gallery
Image Slider
TubePress

(video galleries)

Social Slideshow

(showcase your Instagram feed in your gallery)

Yottie

(showcase your Youtube videos)

Photo Store

(sell photo prints)

Pinterest Feed
Instashow

(another app to showcase your Instagram photos)

POWr Online Store

(sell digital downloads)
While Wix might have more apps for displaying photos in galleries and slideshows, Weebly has more options for accepting bookings. 
SEO
Being able to optimize your site for SEO will help you attract more visitors. 
Wix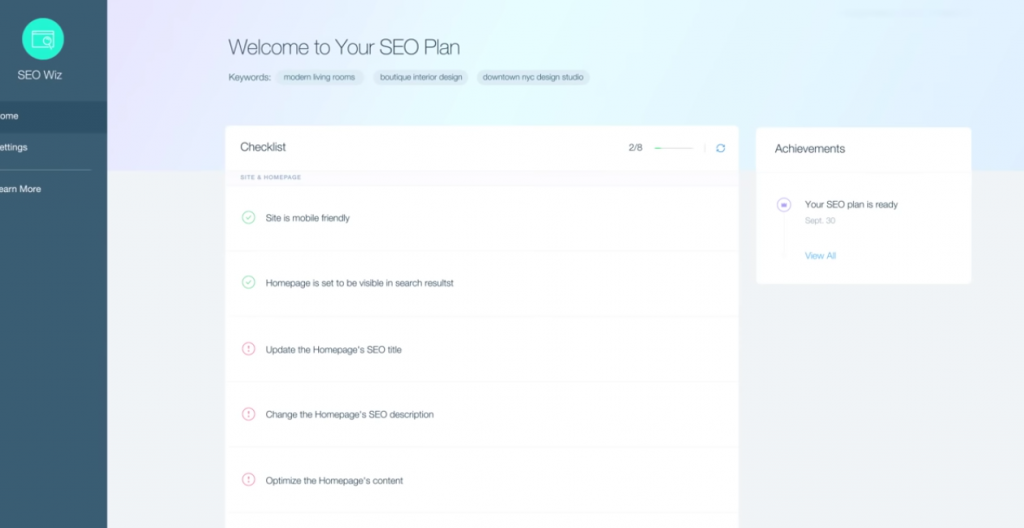 Wix sites are automatically optimized for SEO. They load fast, can be instantly submitted to Google for indexing, and are secure. 
There are other tools to help you optimize your site.
For example, you can generate canonical URLs to let the search engines know which pages to index and add schema markups to help search engines understand what your pages are about. 
Wix presets your site with automated meta tags, but you can customize them at any time. An XML sitemap will be automatically generated and maintained as well. 
If you've never dabbled in SEO before, don't worry.
Wix's SEO Wiz will take you through the necessary steps to optimize your site for the search engines and submit it for indexing. 
The SEO Wiz will help you pick good keywords by providing you with keyword data and give you a personalized SEO plan to follow. 
Weebly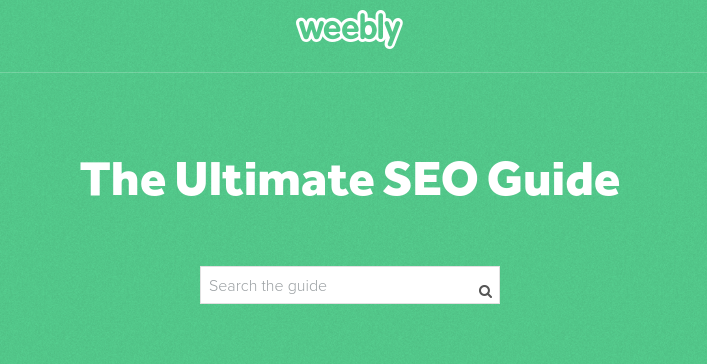 Weebly also offers solid SEO capabilities. You can edit meta titles and page descriptions, for example.
For some aspects of SEO, Wix is a better choice. For example, with Wix, you have unrestricted options for your title tags – you can choose any header size between H1 and H6. 
On Weebly, however, you will need to install the H+ Tag app to do this. This makes the process less smooth.
In the grand scheme of things, however, it is hard to say that Wix is definitely a better choice for SEO purposes. 
Email Marketing
Building a list of fans can help keep sales coming in on a consistent basis. Both Wix and Weebly offer email marketing features. 
Wix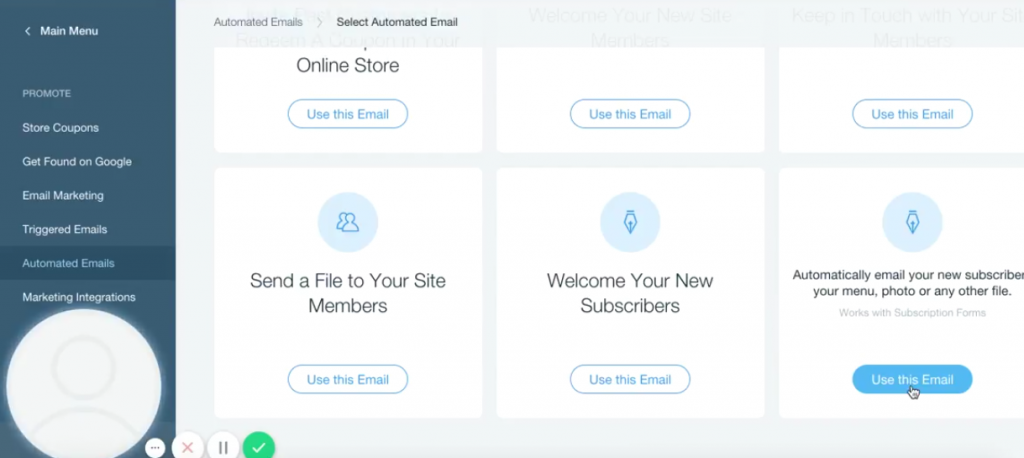 Wix allows you to create subscription popups, which you can use to generate leads and build an email list. You can use your email list to send out newsletters and promotions. 
You can choose from different email templates and create beautiful emails within minutes.
You can also share your messages on your social media accounts to further your reach. 
You will get detailed stats for each email. 
Explore: Best Wix Ecommerce Templates
Weebly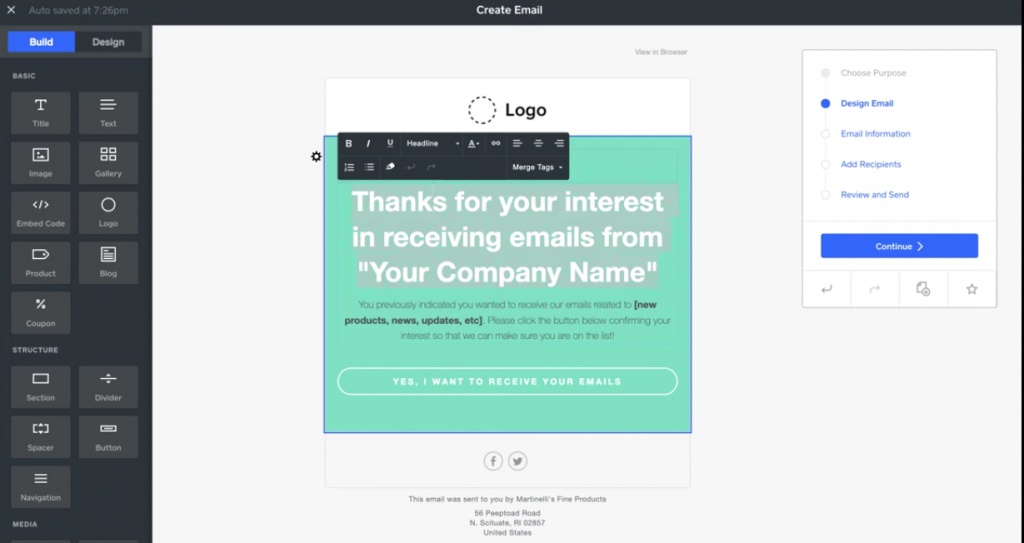 Weebly Promote is an all-in-one email marketing solution.
You can build your list by uploading your existing contacts or by collecting them via popups and forms. 
You can choose from premade email templates, segment your list based on their demographics or actions, and send broadcast emails at any time. 
Storage

How much storage will you get for your site? If you are uploading photographs and videos, you will need a lot of storage to accommodate them. 
Wix
Free Wix sites come with 500MB of storage. However, you can upgrade your storage to up to 50GB of space (with the highest-priced plan).
Weebly
Weebly's free plan also comes with 500MB of storage. However, this is where the similarity ends. 
While Wix has different amounts of storage available on each premium plan, Weebly offers unlimited storage for all of its premium plans.
The exception to this is the $5/month Connect plan. 
In terms of storage, Weebly comes out as the clear winner. 
Blogging
Building a blog can help attract organic traffic, build your authority, boost your credibility, and allow you to connect with customers.
You can blog about photography tips, trends in the photography industry, and news updates related to your business. 
Wix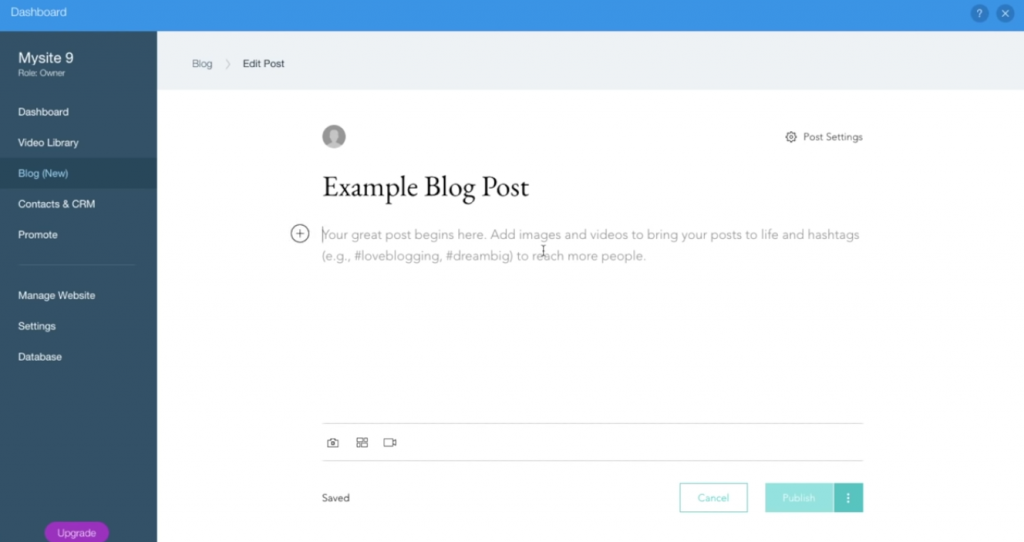 Both Wix and Weebly offer blogging capabilities. 
To blog on Wix, you will first have to install the Wix Blog app from the app center. 
Once you do that, you will have the ability to choose from different blog themes, write and edit posts, add images and videos, sort by tags and categories, view analytics, see how your blogs will appear in Google searches, and more. 
On the other hand, the blog editor is separate than the site editor, which makes the blogging process less smooth.
Weebly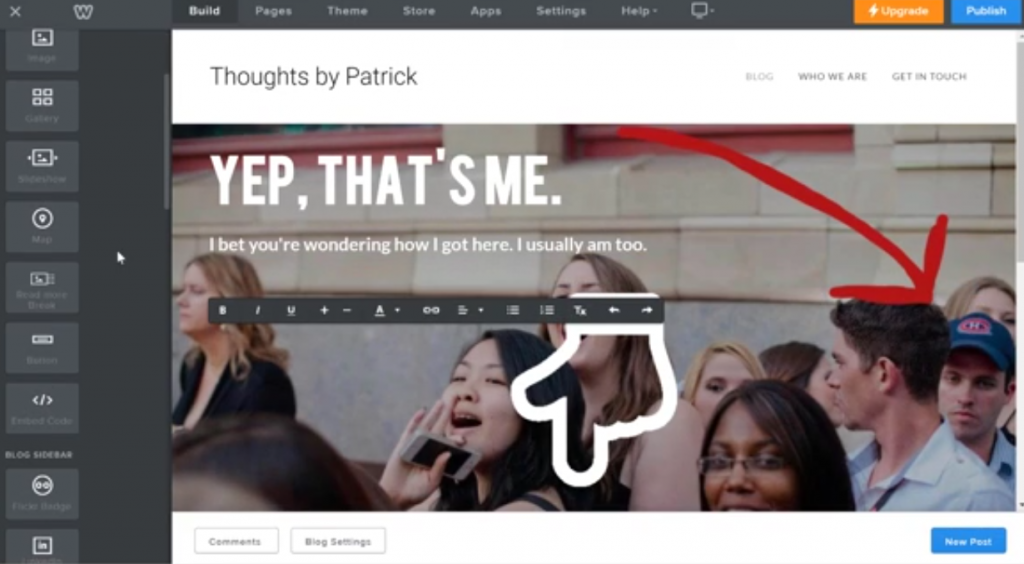 Weebly also allows you to publish blog posts. The Weebly blog editor is integrated with the regular site editor, unlike on Wix.
This means that you can add elements from the regular editor to your Weebly blog. 
Weebly also has some templates that are designed specifically for those interested in blogging. 
Check Out: Best Wix Yoga Templates
Backing Up Your Site
You should be backing up your professional photographs to an online storage platform. Google Photos, Dropbox, and Apple Cloud are all good options that are not expensive. 
However, if you are uploading your photographs to your site, you may want to back up your site as well. 
Wix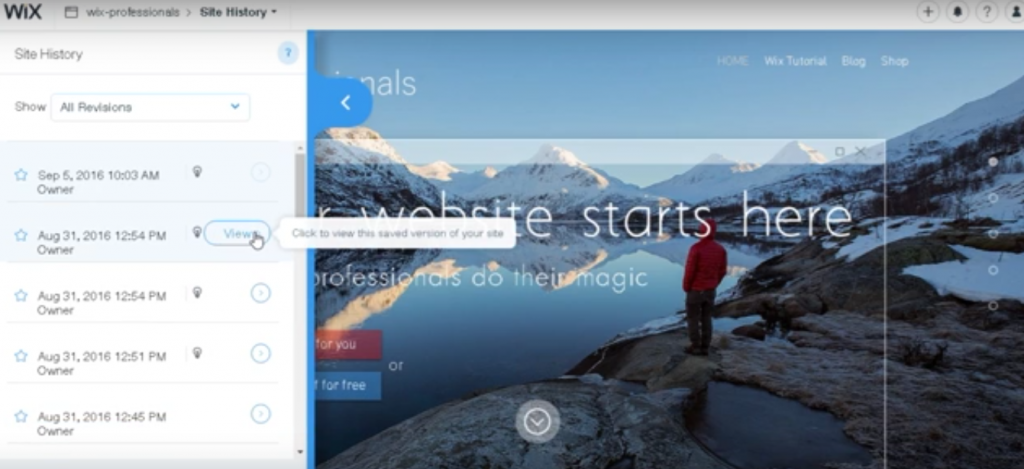 Wix has a Site History tool that saves all of your previous site versions. Using this tool, you can restore your site to any previous version. 
If you have used Google Docs, you might be familiar with this kind of tool. It can save you a lot of time if you want to undo your edits. 
Weebly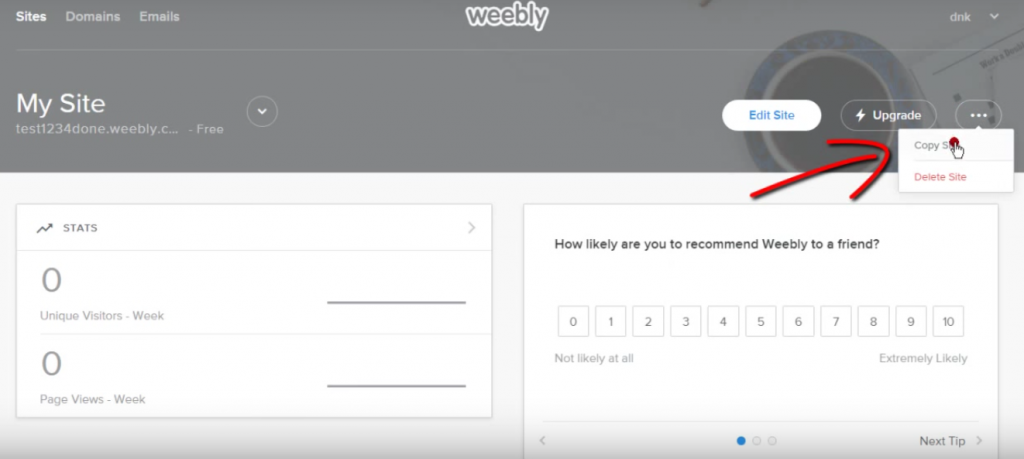 Weebly lets you download a backup version of your site. However, this backup is a bit different than the types of website backup downloads you might be used to if you have used WordPress in the past. 
You can't use this backup to restore your site. Instead, it is meant to be a backup of your content so that you don't lose access to it. 
If your main goal with backing up your site is to save your photographs, however, then this is all you will need.
Mobile Responsiveness
It's important for your website to be optimized for mobile devices. 
Wix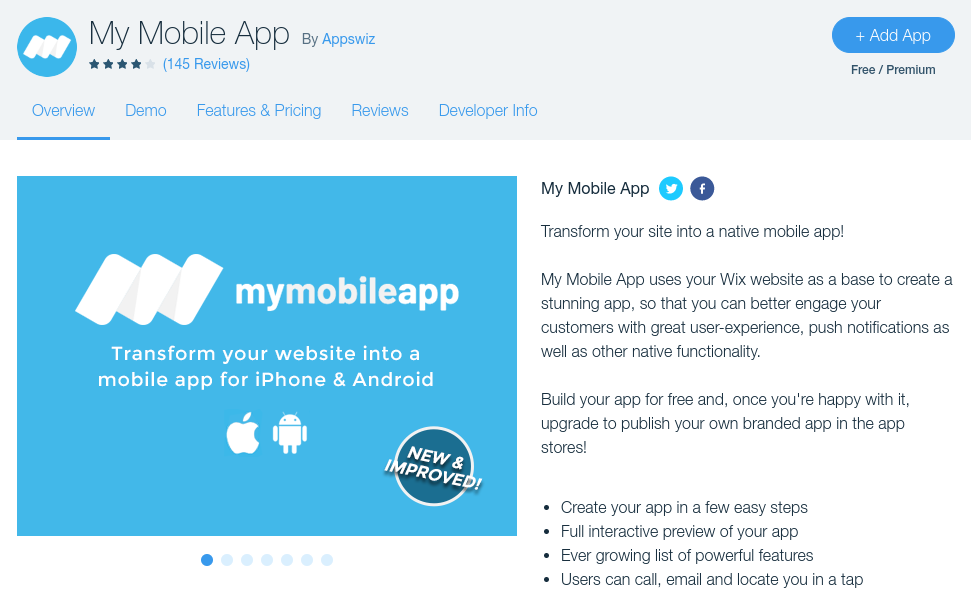 Wix gives you a separate mobile version of your site, which you can edit. 
This means that you can change the way your site will appear on mobile devices. For example, you can choose for certain elements to only be displayed on desktop devices. 
The My Mobile App add-on can be used to create a mobile app for Android and iOS devices, based on your site. You only have to pay publishing fees. 
Also Read: Wix vs Divi
Weebly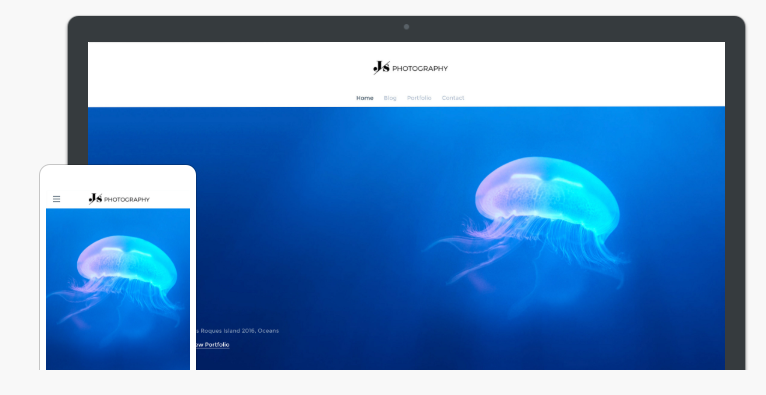 Weebly lets you preview how your site will appear on mobile devices, but you can not edit the mobile version directly.
All of Weebly's themes will be automatically optimized for phones and tablets. 
While this offers you less flexibility, it does make the process simpler by taking away an editing step. 
With the Easy Web to App add-on, you can change your Weebly site into a mobile app.
You can publish your app to the Android app store (it doesn't support iOS) and send unlimited push notifications to your users. 
Mobile App
Both Wix and Weebly have Android and iPhone apps that you can use to manage your site. 
Wix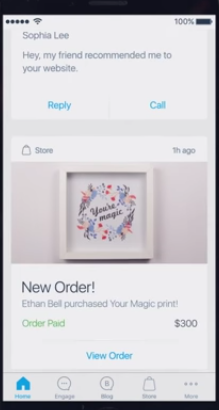 The Wix app lets you manage your site directly from your phone. 
You can respond to form submissions, message clients, view site activity such as new orders, and even upload new images and products directly from your phone.

You can even manage your appointment bookings from the app. Each time a new appointment is made, you will get a mobile push notification on your device. 
You can also use the Wix mobile app to share pictures and posts to your social networks. 
Weebly
Weebly's app lets you build your site from your phone.
If you take snapshots with your phone and want to display them online, this can save you the time and effort involved in transferring your photos to your desktop. 
Customer Support
It is important to be able to get help with your site if you are experiencing a technical problem. 
Wix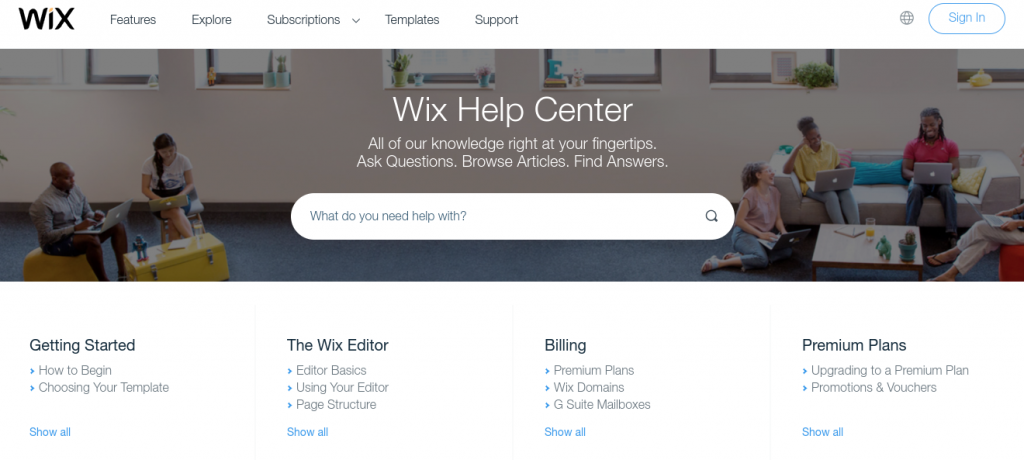 The Wix Online Help Center has a lot of articles and documentation where you can find answers and solutions to the most common questions and problems. 
You can call Wix 24/7 with questions about billing, charges, subscriptions, mailboxes, domains, the editor, live sites, accounts, and settings. 
For other questions, the team is available to answer calls in English, Portuguese, Spanish, and Italian from 5 AM to 5 PM PST Monday-Thursday. During those hours, you can also schedule a callback. 
You can also ask for help via Wix's social media platforms. 
Weebly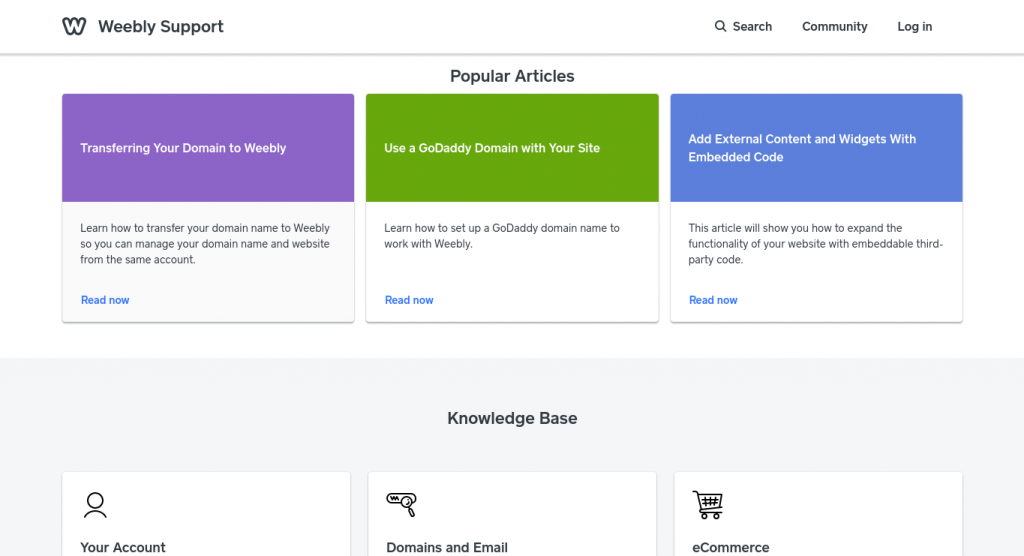 Weebly also has a help center where you can find solutions to common problems. 
You can contact the Weebly support team via email, live chat, or phone call. 
Only those with a Pro plan or higher have access to phone support. 
Business hours are as follows: Monday – Friday 6 AM – 6P M Pacific Time and Saturday – Sunday: 8 AM – 5 PM Pacific Time.
Also Read: Best Wix Templates
Pricing
Which of the platforms offers a better value for money?
Both platforms offer a basic free plan, but if you want more functionality, you can upgrade to a higher-priced plan. 
Wix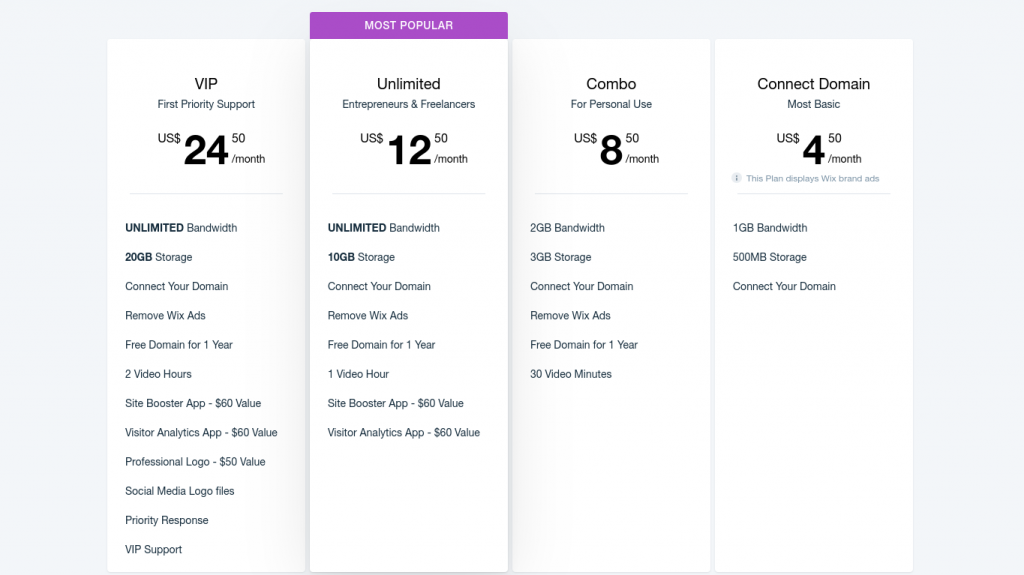 Wix has the following premium plans (following are some of their key features as well):
Connect Domain – $4.50/month:

This plan lets you use Wix with your own domain name.

Combo – $8.50/month:

Remove Wix ads and get 3GB storage + free domain for one year.

Unlimited – $12.50/month:

Get 10GB storage. This plan and all plans below also offer unlimited bandwidth. You will get the Site Booster App and the Visitor Analytics App for free. 

VIP – $24.50/month:

Get VIP priority support, 20GB storage, two video hours, and a free professional logo.
There are also three plans for ecommerce businesses:
Business Basic – $17/month:

Accept online payments. Connect Google Analytics. Get 20GB storage and five video hours. 

Business Unlimited – $25/month:

Get 35GB storage, 10 video hours, and a professional logo.

Business VIP – $35/month:

Get VIP support, 50GB storage, and unlimited video hours. 
Weebly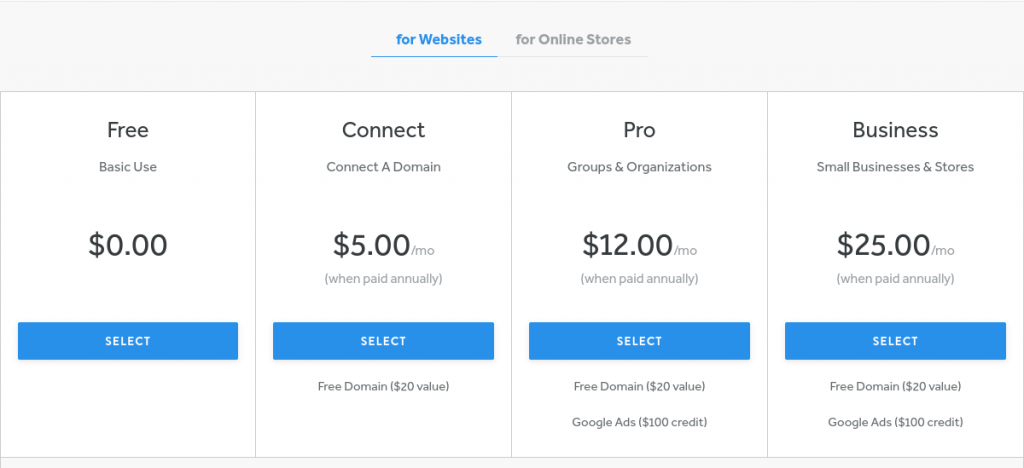 Weebly's premium plans are as follows:
Connect – $5/month:

Get a free domain name and use Weebly with your own domain. 

Pro – $12/month:

Remove Weebly ads, get $100 Google Adwords credit, accept online payments through Square and third-party providers, add a shopping cart to your site, get site analysis, and access phone support. 

Business – $25/month:

Get advanced ecommerce capabilities, such as product options, product reviews, coupon codes, the automatic tax calculator, the shopping calculator, shipping labels, and more. Get advanced ecommerce statistics, Facebook ad integrations, lead capture forms, and popup notifications. 

Business Plus – $38/month:

Get email marketing tools, abandoned cart emails, and real-time shipping.
In general, Weebly offers better pricing options. For example, if you want basic ecommerce capabilities, you have to pay $17/month with Wix vs $12/month with Weebly. 
You will also get unlimited storage. 
Wrapping It Up – Wix vs Weebly For Photographers
Weebly offers better value for money, but Wix has a better site editor and offers more customization. 
Which one you should choose will largely depend on how you personally like the interface of each platform.
Since both are free, it doesn't hurt to set up an account with both platforms and decide for yourself.
Author: Benjamin Levin
Benjamin Levin is a digital marketing professional with 4+ years of experience with inbound and outbound marketing. He helps small businesses reach their content creation, social media marketing, email marketing, and paid advertising goals. His hobbies include reading and traveling.