Websites have become more integral to successful business operations than ever before.
All businesses – big or small – can benefit from having a website as it acts as their gateway into the online realm and allows them to attract an online audience to their business.
The way people create websites has evolved over the years and so have the tools used for building them. Now, we have dedicated tools for creating specific types of website.
However, this wasn't always the case. In the old days, we needed a web designer/developer to build even the simplest of websites.
Tools like Microsoft's Frontpage emerged, making our life a bit easier.
The problem with these tools was that they required some technical knowledge and skills for organizing and uploading the pages and managing things.
Eventually, page builder tools emerged, making things easier for laymen. Most of them offer cloud hosting accounts.
Since these accounts support the user's own domain name, building a website is now practically as easy as creating a Twitter account and customizing the profile.
Two of the most popular website building tools right now are Instapage and ClickFunnels.
In this post, we will compare these two tools to help users decide which one is right for them.
Related: Best Landing Page Creator Software
How Instapage & ClickFunnels Are Different From Other Tools
A number of general purpose website building tools are available out there like WordPress and Wix.com. Wix.com helps people create a website for their brand.
On the other hand, Instapage and ClickFunnels are created for a specific purpose.
Instapage helps users create better PPC landing pages while ClickFunnels helps them create a high-converting, fully functional funnels.
If a user only wants to create a basic online presence – like homepage, services, about us page, — that serve the purpose of educating people about their brand, they might go with something simple like Wix or WordPress.
However, if a person wants to drive traffic to a landing page to encourage online users to perform an action, they should consider using Instapage or ClickFunnels.
It is important to realize that if a user wants to build a whole website from scratch that'll depend on search engine optimization (SEO) for traffic, then Instapage and ClickFunnels wouldn't be the right pick. For that, WordPress would be best.
If a user is doing SEO, but also needs landing pages and will use paid ads to drive traffic to them, they should consider using ClickFunnels or Instapage with WordPress.
We earn a commission if you click this link and make a purchase at no additional cost to you.
What Purpose Does Instapage & ClickFunnels Serve?
Before we get into the review of the two tools, it is important to point out that both these tools do the same thing.
However, depending on what a user intends to do and the tool they choose, they may have to implement some workarounds and jump through some hoops to get the ClickFunnels or Instapage to work as they want it to.
Therefore, we would recommend people to use the tool that is designed specifically for their use case.
For example, Instapage can be used for building a funnel. However, things would be very hectic for the user.
Similarly, single page landers can be built in ClickFunnels, but that isn't what the software is designed to do.
Their page builder is easy to use and fluid, but it isn't as advanced as that of Instapage.
In many circumstances, a user would want both. They would want the functionality of PPC landers and also the full-fledged funnels.
In that case, the user must ask – which one do they need more? Or which one provides more value to their business? Which tool can help them do what they are doing right now better to drive more business to them?
The two tools target different segments and this can be seen on their website. ClickFunnels positions themselves as a platform for marketing, selling and delivering products and services online.
On the other hand, Instapage positioning is geared towards PPC advertisers who want to create landing pages.
Now let's move to a more detailed comparison of the two tools.
Related: Best Adwords Landing Page Creators
We earn a commission if you click this link and make a purchase at no additional cost to you.
Dashboard
The first thing to note about the dashboards of the two tools is that the ClickFunnels' dashboard is very crowded compared to that of Instapage.
This is understandable as ClickFunnels takes an all-in-one approach while Instapage's approach is more focused.
However, the main problem is that the dashboard of ClickFunnels isn't crowded with functionality but rather stuffed with ads that take up a lot of the screen space.
Users won't appreciate seeing ads in a paid product that costs $297/month. ClickFunnels shouldn't have wasted the valuable screen real estate by displaying ads on it.
It would have been better if the area contained helpful notifications or some kind of stats.
When a user logs in to a tool that they paid for, they expect to see information about how their business is doing.
While that is included in ClickFunnels, it is only taking a small portion on the right side of the screen as compared to ads in the middle that take all the spotlight.
The Instapage dashboard is better and is what a user expects it to be. It is focused and clean and ads don't take the screen real estate.
Since Instapage is mostly focused on PPC landers, its dashboard displays all the landers of the user giving them an idea about their conversation rates and raw conversion numbers in a glance.
They can also be organized into Groups.
The main navigation can be found on the left side and this provides access to all major features.
In the upper menu, there is a navigation bar providing an option like billing settings, notifications, account settings, and support.
Check Out: Best Instapage Templates
Page Builder
Let's talk about the page builder of Instapage first. Users can find the "Create New Page" option in the dashboard and when they click it they'll be presented with three different options – Upload page, AMP page, and Standard page.
With the upload feature, a user can upload a previously exported or downloaded Instapage lander.
AMP is an abbreviation of Accelerated Mobile Pages and it's a way of creating website pages with very fast loading time. However, it is only available on Instapage's enterprise plans.
Standard page is a simple Instapage functionality. When a user selects it, they'll be given the option to either create from scratch using a blank page or use a template.
Different categories of landing page templates are available including lead generation, thank you, webinar, eBook, two-step, app, event, and click-through.
They cover different use cases and provide a starting point to the user. This is especially helpful for users who don't have an idea of how they want their page to look like.
Once a user chooses a template, the page builder will load another page with options to customize the template.
The user can grab and move elements on the template page in any way they please.
The elements are not trapped inside columns so they can be moved around easily and placed on top of one another.
While this feature should be available in every page builder, ClickFunnels' page builder and many others don't have it.
Instablock is the first basic building block a user builds using Instapage. It is just another blank section on the page.
Once the user creates a section, they can add any available elements to the Instablock by clicking on it and dragging it wherever they please.
We like this dragging feature, as it is extremely responsive and fluid.
The elements that a user can insert on their page include buttons, forms, headlines, paragraphs, videos, images, custom HTML, social sharing, and timer. Each of these elements can be customized with a convenient inline editor.
In addition, there are some very useful settings available in the page builder.
A user can connect integrations, change fonts, and add custom HTML and JavaScript. In addition, they can view the editing history of the page and restore older versions.
We earn a commission if you click this link and make a purchase at no additional cost to you.
Explore: ClickFunnels vs InfusionSoft
When a user chooses to create a funnel with ClickFunnels, they will be presented with a classic funnel builder.
It will ask them to choose one of the three objectives for their funnel – host webinars, sell products, and collect email addresses.
A user will have to answer a few more questions and then they can start building their funnel.
As we mentioned earlier, ClickFunnels is funnel-focused so every funnel a user builds isn't a single page but rather a series of pages.
Another way to build funnels using ClickFunnels is with the cookbook.
The cookbook contains funnel recipes which are essentially 'ready-to-use' funnels that a user can buy and edit to suit their needs.
Usually, the funnels in the cookbook are built for a specific purpose.
They can be copied to an account with a simple click of a button and they will come with all funnel steps.
The editor of ClickFunnels is nowhere as fluid as that of Instapage.
If a user wants to add content to their page, they must first add a section and follow up by adding rows.
The page's structure is more rigid than Instapage's.
A user cannot move elements around freely – elements must be inserted into sections, columns, and rows.
So if a user wants to move any element around, they must modify the building block's structure first which makes the process cumbersome.
Fluidity is extremely important when building funnels and landers at scale. A user won't be able to get things done faster if the page builder isn't fluid.
The Instapage builder is more fluid and more intuitive than ClickFunnels' and it can get the job done faster.
We earn a commission if you click this link and make a purchase at no additional cost to you.
Explore: Instapage vs Unbounce
However, it is important for a user to consider this question – Do they need a higher level of flexibility? Many users don't require a high level of flexibility as they aren't building many landers.
If that is the case, then they wouldn't mind the functionality of ClickFunnels' page builder.
Other features of the ClickFunnels' page builder are almost similar to Instapage's.
However, ClickFunnels does offer some more elements to insert on the page including FAQ sections, surveys, navigation options, progress bars, shopping cart option and more.
Pricing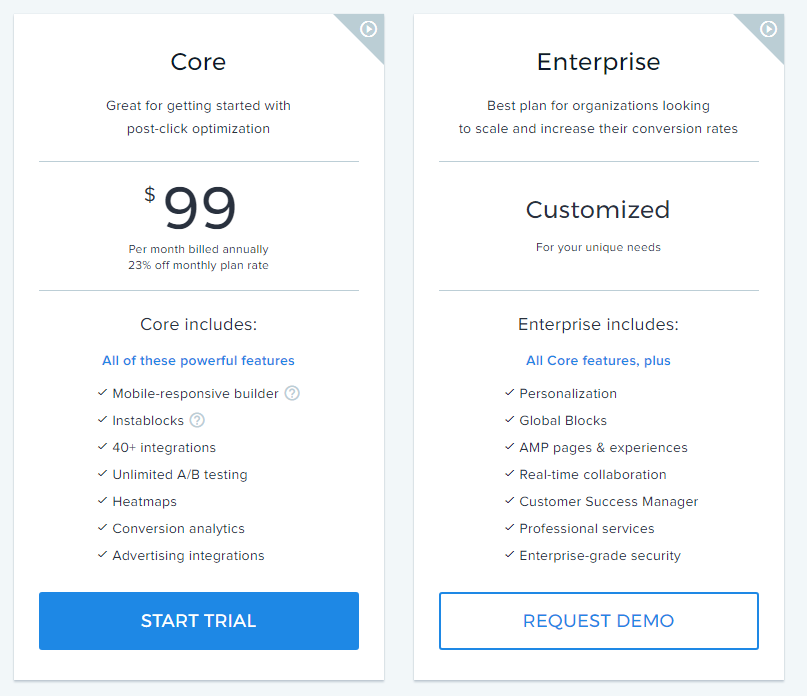 Two pricing plans are offered by Instapage. The core plan of the tool costs $99 per month if the user chooses to pay annually and $129 per month if they choose the monthly payment option.
It comes with common features including mobile-responsive builder, Instablocks, unlimited A/B testing, and more.
The Enterprise plan can be customized to suit the user's needs and is priced accordingly. It includes real-time collaboration, AMP pages and global blocks among other things.
We earn a commission if you click this link and make a purchase at no additional cost to you.
The core plan is capped at five team members, five subaccounts, 30 published pages and 30,000 unique.
So even if the user doesn't need the extra features of the enterprise plan, they will have to upgrade if they hit any of these limits.
Explore: ClickFunnels vs Leadpages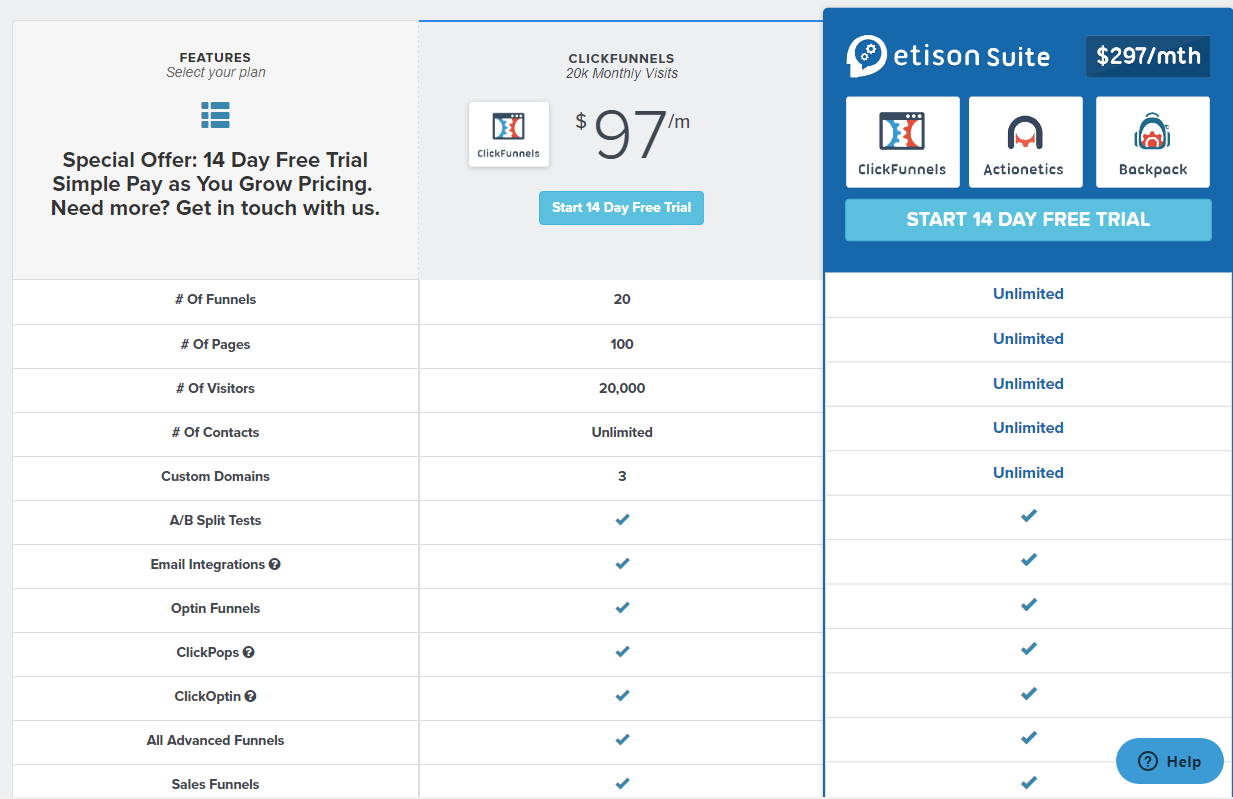 On the other hand, ClickFunnels has two plans and none of them can be customized. A user can choose from a $99/month plan or $297/month plan.
The $99 plan of ClickFunnels is capped at 20 funnels and 20,000 monthly visitors.
However, it is important to note that the ClickFunnels' 20 funnel limit could be a lot more than that of Instapage's 30-page limit as a single funnel will likely contain several pages/steps.
Let's say that a user creates a landing page and that page leads to another page before finally leading to a thank you page.
That is a total of three pages in Instapage. However, in ClickFunnels, this is just one funnel.
In ClickFunnels, a user can create 20 of those three pages, so that is 20 x 3=60. On the other hand, if they want to create 60 pages in Instapage, they will need to upgrade to the enterprise plan.
Both Instapage and ClickFunnels offer a free trial. While a user can active Instapage's trial without providing their credit card information, ClickFunnels will ask for it.
Explore: Instapage vs Leadpages
We earn a commission if you click this link and make a purchase at no additional cost to you.
Analytics & Split Testing
ClickFunnels assume that the user will be using different integrations for advanced analytics.
This is perhaps the reason their dashboard only provides limited data. Conversion rates, number of leads, page views, etc. can be viewed.
For many people, this is very simple and not enough. However, some ClickFunnels users – especially those who rely on third-party analytics tools – would find the analytics options sufficient.
As for split testing, using ClickFunnels, a user can split test one variation of each funnel step against a control version.
A total of two variations are allowed for each step. The user can distribute the traffic at the percentage they desire or evenly among the variations.
Instapage is more robust than ClickFunnel in both split testing and analytics.
Within the editor, the user can instantly create several variations of their current lander for split testing.
It is possible to create more than two variations in Instapage.
Instapage provides more data on A/B testing than ClickFunnels. In addition to conversion rates and raw numbers, a user can see the percentage improvement over the control variation, cost per lead and cost per visitor.
To see the cost per lead, an advertising platform must be connected with Instapage.
Report Building, Heatmaps, & Graphs
Instapage doesn't just take the lead over ClickFunnels in A/B testing, but it also provides a better report building feature.
It directly hooks to major advertising platforms like Google Ads.
Then it is able to gather traffic costs from those platforms and display stats like cost per lead, cost per purchase, etc. This functionality isn't available in ClickFunnels.
In addition, Instapage provides users with cost and performance charts that show plotted data like conversion numbers, cost per conversion and conversion rates.
You can even filter data to show the unique visitors from the total visitor count.
Another impressive feature of the Instapage is heatmaps. This functionality is generally provided by third-party tools like Lucky Orange, Hotjar, and Crazy Egg.
We earn a commission if you click this link and make a purchase at no additional cost to you.
However, these tools are expensive, especially for users who get a large amount of traffic.
Therefore, it's great to have heatmaps functionality available in the Instapage. You can do all the split testing in one place thanks to the impressive functionality of Instapage.
Also Read: Divi vs ClickFunnels
Support
ClickFunnels has a huge Facebook group, it has about 204,000 members right now.
This group is pretty active and the members are helpful. The official support is offered through an email Monday to Friday, 9 AM to 5 PM EST.
The Facebook group of Instapage doesn't have a lot of members, but there is a community forum on their website where you people can ask questions.
The community appears to have people who ask questions publicly and staff members.
As for the official support, Instapage states that their support team is active Monday to Friday. However, their hours have not been specified.
Some Important Considerations
It is important to mention two important modules – Actionetics and Backpack – that a user gets in the ClickFunnels' $297/month plan.
Actionetics is an email service provider that can help users avoid paying for third-party email tools like Drip, GetResponse, MailChimp, etc.
Backpack allows users to run their own affiliate program so again it saves them from having to pay fees for using third-party tools.
Actionetics and Backpack aren't just helpful because they save users from paying additional fees for third-party platforms, but because they make the user's work easier by giving them everything they would need in one place.
Also Read: Samcart vs ClickFunnels
We earn a commission if you click this link and make a purchase at no additional cost to you.
The Final Verdict – ClickFunnels vs Instapage
So which one is better? The answer depends on the user's needs. Both tools allow a user to build pages using a simple editor.
But, there is so much more than that. If a user is creating a sales funnel for a service, product or webinar, etc or if they have a multi-step funnel, then ClickFunnels would be best for them.
ClickFunnels would also be a better option for users who don't require a lot of flexibility with the page editor and rely on third-party tools for analytics.
On the other hand, users who don't need funnels (not many pages) but want extremely flexible landing pages to generate leads should choose Instapage.
Since the elements can be easily moved from one place to another on Instapage, they will be able to create their pages in less time.
Instapage is also a better option for those users who don't just want to split test two variations but a lot more and those who want better analytics and detailed reporting all in one platform.
We hope that you will find our comparison of Instapage and Clickfunnels helpful in choosing the tool that is best suited for your needs.
Author: Scott Macarthur
Scott L. Macarthur is a marketing consultant and an online author. He is mostly engaged in providing his expertise to startups and SMBs. He is also an author on TheNextWeb.